On March 1, RK Cultural Productions will proudly welcome the Venice Baroque Orchestra to FIU's Wertheim Performing Arts Center for an exhilarating night of authentic Baroque music.
To appreciate the incredible technique and musicianship required of period performances by the likes of Venice Baroque Orchestra, it is important to first understand the history and craftsmanship of these centuries-old instruments.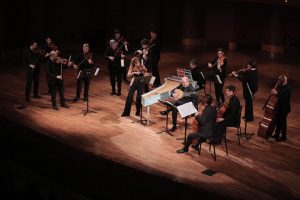 During the Baroque period (roughly 1600-1750), instruments were limited by technology. The crafting of woodwinds and brass instruments – all done by hand – required expert precision, and any deviations meant out of tune instruments and inferior tone quality.
As technology advanced, so, too did artists' interpretations of Baroque music. While modern performances kept the historic works of Bach, Handel and Vivaldi alive, they were not accurate representations of their original sound.
Fast-forward to the late 1900s, when an authenticity craze sparked historical studies of Baroque performance practices. Distinct groups of artists were committed to interpreting period music in smaller ensembles with replicas of original instruments, and attention to tempo (speed) and musical phrasing, thereby preserving the original style, sound and spirit of Baroque music. One such group is the stellar Venice Baroque Orchestra.
On March 1, this prestigious ensemble will perform a selection of 18th century Baroque masterpieces, including famous concerti by Antonio Vivaldi and Francesco Geminiani's version of the most popular tune in music history, La Folia – all with authentic period instruments and inimitable virtuosity.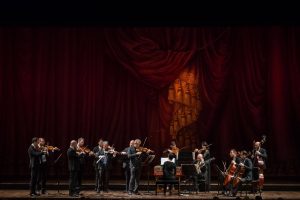 The Venice Baroque Orchestra was founded in in 1997 by Baroque scholar and harpsichordist, Andrea Marcon. Under his leadership, the orchestra has given modern-day premiers of rarely performed historical operas, including Francesco Cavalli's L'Orione, Vivaldi's Atenaide, Andromeda liberata, Benedetto Marcello's La morte d'Adone and Il trionfo della poesia e della musica, and Boccherini's La Clementina.
The critically acclaimed ensemble has performed in more U.S. cities than any other Baroque orchestra in history, in addition to extensive tours across Asia and Europe. The orchestra has also thrilled audiences worldwide through several television specials, including films by the BBC, ARTE, NTR (Netherlands), and NHK.
All ages welcome! Tickets start at $30. To book, scroll below to "Tickets" section and follow prompts.