This Valentine's Day, RK Cultural Productions and the Bach Society of Minnesota proudly present a special concert performance of "Motezuma", a legendary Baroque opera by Italian master composer Antonio Vivaldi.
"Motezuma", which first premiered in Venice in 1733, was loosely inspired by the historic 1519 encounters between Hernan Cortes, a Spanish conquistador, and Aztec ruler Montezuma.
The score to this fantastical opera was long considered lost until the year 2002, when a partial copy was discovered in the archives of the Sing-Akademie in Berlin. Since then, "Motezuma" has been reimagined and reconstructed by musicians and artists worldwide.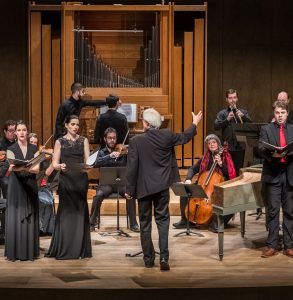 On February 14, Vivaldi's treasured work will be brought to life in a new version completed and reconstructed by Mattias Maute, Artistic Director of the Bach Society of Minnesota. In his semi-staged production, the Aztec point of view receives an entirely new focus with a speaking role for Emperor Motezuma, played by actor Pedro Juan Fonseca.
Presented at the FIU Wertheim Performing Arts Center, "Motezuma" is a celebration of cultural and national collaboration. The prestigious Ensemble Caprice, a leading baroque orchestra from Montreal, will perform alongside an international cast of singers from Mexico, Spain, Canada and the United States.
The special performance will also feature a chorus of young students from local South Florida schools as part of RK Cultural Productions' "Bach to School" outreach program.
All ages welcome! Tickets start at $30. To book, scroll below to "Tickets" section and follow prompts.