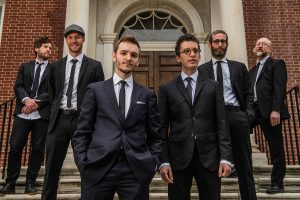 Ruckus' core is a continuo group, the baroque equivalent of a jazz rhythm section: guitars, keyboards, cello, bassoon and bass. Other members include soloists of the violin, flute and oboe. The ensemble aims to fuse the early-music movement's questing, creative spirit with the grit, groove and jangle of American roots music, creating a unique sound of "rough-edged intensity" (New Yorker). Its members are assembled from among the most creative and virtuosic performers in North American early music, and is based in New York City.
Ruckus' debut album, Fly the Coop, a collaboration with flutist Emi Ferguson, was Billboard's #2 Classical album upon its release. Live performances of Fly the Coop in Cambridge, MA was described as "a fizzing, daring display of personality and imagination" (New York Times).
"Ruckus brought continuo playing to not simply a new level, but a revelatory new dimen-sion of dynamism altogether… an eruption of pure, pulsing hoedown joy … Wit, panache, and the jubilant, virtuosic verve of a bebop-Baroque jam session electrified and illuminated previously candle-lit edifices as Ruckus and friends raised the roof, and my mind's eye will never see those structures in quite the same light again." (Boston Musical Intelligencer)
With Holy Manna, a program including arrangements of early American hymns from the shape-note tradition, Ruckus has begun a multi-project exploration of histories of American music. Other upcoming projects include a co-commission of a large-scale work by pioneer-ing artist and NEA Jazz Master Roscoe Mitchell as part of a Bach / Bird Festival (with The Metropolis Ensemble and the Immanuel Wilkins Quartet).
Emi Ferguson can be heard live in concerts and festivals with groups including the Handel and Haydn Society,AMOC*,the New York New Music Ensemble, and the Manhattan Chamber Players. Emi's recordings for Arezzo Music, Fly the Coop: Bach Sonatas and Preludes with Ruckus (2019) and Amour Cruel (2017) were amongst the top 10 albums on the Classica land World Music Billboard Charts and showcase Emi's fascination with rein vigorating music and instruments of the past for the present. Emi has spoken and performed at several TEDX events and has been featured on media outlets including the Discovery Channel, Amazon Prime ,and Vox talking about how music relates to our world today.
Born in Japan and raised in London and Boston, she now resides in New York City.