Streaming Free Now Until 2-19-2022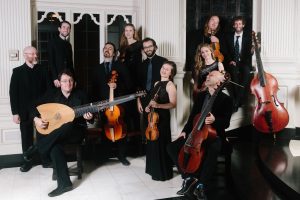 Baroque band ACRONYM — an "outstanding young early-music string ensemble"
(The New Yorker)—is dedicated to giving modern premieres of the wild instrumental music of the seventeenth century. Playing with "…consummate style, grace, and unity of spirit" (The New York Times), the group formed in 2012 and has released ten critically acclaimed CDs since 2014. Projects include the first modern performances and recordings of works by Biber, Rosenmüller, Capricornus, and more. The band's most recent album, Cantica Obsoleta (2020), features the modern premiere recordings of nearly-lost works from Sweden's Düben Collection. The Boston Globe raves, "this musical time-capsule offers enough resplendence to transport anyone." Recent and upcoming engagements for ACRONYM include the Boston Early Music Festival, Festival Oude Muziek Utrecht (Netherlands), Music Before 1800 (NYC), Isabella Stewart Gardner Museum (Boston), Oberlin's Artist Recital Series, Hamilton College Performing Arts Series (Clinton, NY), Baldwin Wallace Bach Festival (OH), Lincoln Friends of Chamber Music (NE), Arizona Early Music Society, Indianapolis Early Music Festival, Chamber Music Wilmington (NC), and Five Boroughs Music Festival in New York City.
Sonata da camera a5 in G Minor                Johann Rosenmüller (1619 – 1684)
Sonata a 5 in D Mino                                   Johann Heinrich Schmelzer (1620 – 1680)
Sonata in G Major                                         Pietro Andrea Ziani (1616 – 1684)
Sonata a3 in E Minor                                   Andreas Oswald (1634 – 1665)
Sonata a5 in C major,                                  "Gaba" Johann Pezel (1639 – 1694)
Sonata a2 in A Minor                                   Adam Drese (1620 – 1701)
Sonata a6 in D Minor                                   Antonio Bertali (1605 – 1669)
Sonata a4 in F Major                                   Johann Philipp Krieger (1649 – 1725)
Sonata Jucunda a5 in D Minor                  Anonymous (?Biber/?Schmelzer)
RK is able to present its 2021-2022 "Bach to Live Concert" series because of the generous contributions of dedicated music lovers like yourself and with the support of the following sponsors.
Your support and donations are greatly appreciated. Thank you.